Poster Printing Vancouver – As a business, do you believe that Poster Printing is one of the most attractive and cost-effective ways of connecting to your target audience. Whether it is the launch of a new brand, product, any special event, a new store opening, or discount promotion, they can all be advertised via poster prints. Poster printing Vancouver is undoubtedly one of the best ways in which one can reach their targeted audience easily. And it is rightly said that despite trending electronic media, print media still holds its power.
When you talk of Poster Printing Vancouver, we will say, "PrintCulture" is the perfect direction for you to approach. This is because of their low-cost same-day printing, along with the benefit of reliable and quick delivery. Explore this blog till the end to dwell deeper into this topic.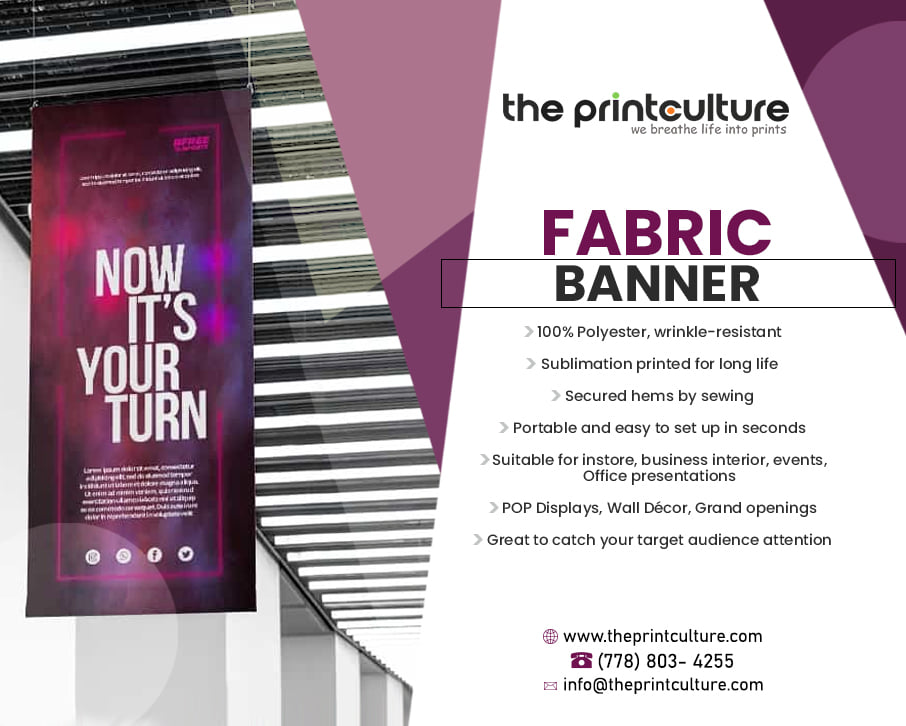 We at Printculture, are always ready to help you find rapid solutions that meet your demands, as we understand how hectic life can be in the lower mainland. We are always happy to address your different queries regarding printing and are just a call away from you. Call us at +1(778)803-4255 or send us an email at info@theprintculture.com to get true answers to your queries related to customized poster printing.
The Printculture – Leading Poster Printing Vancouver 
Printculture is one of the leading poster print shops in Vancouver, offering customized services for printing canvas posters, photo posters, wall decors, and many other services. We provide full-color, high-quality printing service right from graphic design to the finished product. we have the most up-to-date print machines, design technology, and highly trained employees. This is the only reason why our customers feel comfortable working with us and feel a sense of satisfaction after receiving their high-quality custom print products from us. 
We also deal in a wide range of customized printing solutions such as brochures, business cards, envelopes, flyers, invitations, labels, letterheads, newsletters, postcards, and presentation folders, etc. Also, we have a team of graphic designers and print technicians who follow the latest designs and technical innovations in the market thereby making sure that all our products are in line with the latest trends and technology. Hence feel free to reach out to us at Printculture for all your requirements related to customized poster printing in Vancouver.
Here is the list of the printing services offered by us other than posters offered by us.
Banners & Signs:
Boards for Sandwiches (A-Frames)
Directional/Wayfinding Signs
3D Signs & Light Box Floor Signs
Display at a Trade Show or an Event
Wraps for vehicles and walls
Stationery for Business:
Diaries and Calendars
Flyers & Brochures
Identity Cards
Trophies & Certificates
Business Cards and Letterheads
Personalized Promotional Products:
Customized Gifts for Business
Packaging Materials for Mugs and Drinkware Posters and Wall Decor
Mobile Cases and Keychains
Garment Printing and T-Shirts
Custom promotional gifting items
Photo Gifts or custom photographs:
Photo T-Shirts, Gift Boxes, and Décor
Pose for the camera
Business Photo Plaque Sign
Retail Signage
For Real Estate and Construction
For Retail stores
POSTER PRINTING VANCOUVER -SERVICES BY PRINTCULTURE 
Here are the top poster printing services you can avail at the PrintCulture:
Photo Poster Printing 
We give you a range of options to make sure your prints look their best wherever they are displayed from glossy to a dull finish. With our high-quality full-color Personalized Photo posters it's the time to relive your memories. All our Posters are sure to capture everyone's attention most effectively regardless of whether they are mounted or framed. The only work needed to be performed on your part is the selection of the best photos. Here are some of the most popular applications for Photo posters:
Personal Gifts to friends & family
Film Posters
Retail Promotions
Advertisements for Sales and Promotions
Posters
Catering to all your Personal and Professional needs, PrintCulture creates Custom Posters on the go. Printed on a range of stocks with either glossy or dull finish, we give you a complete range to ensure your brand looks its best wherever it is displayed
Uses of posters 
Gifts
Film Posters
Retail Promotions
Advertisements for Sales and Promotions
Wall Decors 
Refresh your open spaces into a work of Art! Let your walls stand out and speak for you. All you have to do is, convert your favorite pictures, images, quotes or text, into breathtaking posters, which will brighten up not only your wall but also your heart every time you look at them. They are no doubt the perfect gift for your family, friends, or simply yourself.
Popular Usage Ideas
Gifts or Personal use
Display at the office or other commercial places like schools, hotels, etc 
Retail Promotions
Why Choose PrintCulture as the best Poster Printing Services In Vancouver?
PrintCulture is the best printing shop that provides a world of printing options at your fingertips. Also to provide you with the best printing services we use the latest technology with a team of experts. Also, Hence Approach the PrintCulture now to get the best Poster Printing in Vancouver. 
Get in Touch with The Printculture: –
We offer Poster Printing services in Vancouver, British Columbia. We also have our presence in other areas such as Langley, Surrey, Richmond, and Burnaby. Also, you can choose us as we provide high-quality products at the most competitive costs, with an additional option of Express delivery at nominal charges. Hence, approach PrintCulture now to get the best Poster Printing services in Vancouver.
Contact Details
Name – The Printculture
Address – 19181 34A Ave Unit 109, Surrey, BC V3Z 0Z7, Canada
Phone No. – +1(778)803-4255
Mail – info@theprintculture.com