T Shirt Printing Richmond BC – Well are you in search of the Custom T-shirt printing Richmond? If yes then this is the right blog for you. Print culture is one of the best brands offering the best custom T-shirt printing services. Our company has all the top solutions for you whether you need a custom printing t-shirt for an event or your company. You have the freedom to design your t-shirt according to you, our prints pros will handle the rest. Using an all-inclusive pricing system that incorporates all costs we provide quotes. Hence you get wings for escaping from any additional costs.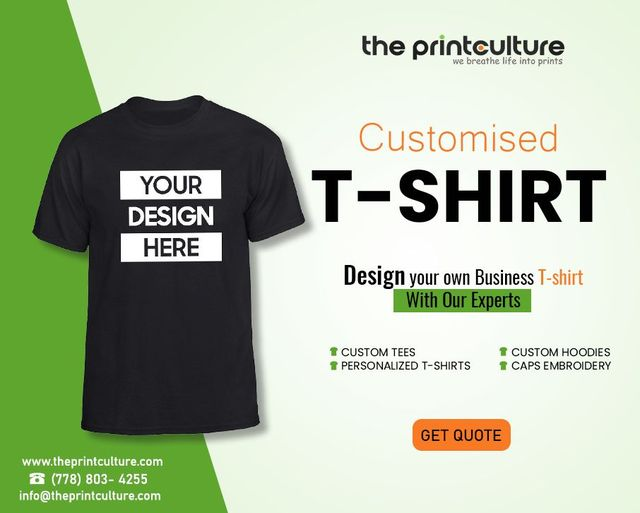 There is a high demand for classic custom apparel items such as hoodies, t-shirts, and sweatpants, etc. Ranging from everyday wear to high-end items every brand is included in our assortment hence providing a wide choice to the clients to choose the best brand and quality that suits their needs. Feel free to make us call at +1(778)803-4255 or email us at info@theprintculture.com for more information regarding more items or quick shipping. 
The Printculture – Top Leading T-shirt Printing Company Richmond 
The best thing about getting the personalized t-shirts done in Richmond is that it only takes a Lunch break to make it if you are at work, it is that simple. It will also feel proud to have the product you have designed onboard and also you can have entertainment from it for a long time.
The durability of our t-shirts is much higher as all the t-shirts are made up of top-notch quality material. Your fear of losing the design and color after a single wash disappears only at the print culture. The t-shirt would not fade and remain as living with the vibrant colors as it was when new. 
All you need are the design components whether you need a large order for a team event or simply a single top for yourself. You have the freedom to customize the size, shape, and orientation to your heart's desire once you have uploaded them to our custom T-shirt maker. 
Our printing equipment is cutting-edge and we only deal in the high quality of the t-shirt stocks. We are recognized for the high quality of our goods, the simplicity of the design process, and the prompt delivery service. Hence to discover the best designs and convert your ideas into reality get in touch with our team right away as we are at your fingertips. 
How to Get Printed Design on Your T-shirt in Richmond?
There is 3 ladder process to get your T-shirt design:
Ladder 1 – Make your vision a reality! All you need to do is visit us with your finished artwork or collaborate with our designer. 
Ladder 2 – Now the ladder 2 is all about the selection of the quality and the material you want for your site. There are endless options and samples for you to choose from. 
Ladder 3 – Finally Your ideas will be brought to life through Power Apparel by our designers. 
Why Choose Printculture as the best T-shirt Printing Richmond?
Printculture's top-notch quality custom embroidery and branded apparel services have made much local business in Richmond dependent. Here are some of the top picks of choosing Printculture as the best T Shirt Printing In Richmond. 
It's a simple process of placing and repeating orders.
Minimal Setup fees. 
Competitive and transparent pricing followed
We devote close attention to details and design, raw materials, and resources to generate high-volume quality results. 
Contact one of our helpful apparel decoration specialists to receive assistance with your project.
The house was designed and decorated in the lower mainland. 
Simple Quick Process:
For professional results with rapid turnaround times, we have made the process of apparel decoration straightforward. 
To inquire about an order you contact us by phone or email. 
Order – We collaborate with you to create a design, logo, or lettering that meets your particular requirements.
Production – We collaborate closely with you to reach your project deadlines. 
Ship or Pick-up –We can ship to your location or Local pick-up is also available. 
We offer bespoke screen printing and embroidery on T-shirts and other items for our Richmond customers. Please email us at info@theprintculture.com or make a call at +1(778)803-4255. We make sure that every customer has a positive experience from the moment they place their order to the moment they receive it and thrive on repeat business.
Contact Details:
Name – The Printculture
Address – 19181 34A Ave Unit 109, Surrey, BC V3Z 0Z7, Canada
Phone No. – +1(778)803-4255
Mail – info@theprintculture.com